In December of 2007 Tiffany and I were having dinner at my parents' house in Pasco, Washington.  Eating pizza with us that Friday night were our friends Doug and Stephanie Crandall.  After I shared a story about my adventures at Duke's business school, Doug told me I should write a book.  I responded that I did not like to write.  "Maybe you should do it," I joked.
Just over a week later, Doug called me up and said he wanted to assist in writing our story…and the Hope Unseen book began.
At the outset, Doug asked me several times why I wanted to tell my story.  My response was simple and consistent: I wanted to glorify God.  All I could think of was giving God the glory.  I knew that through all the great and not so fun situations in my life the verse from Philippians 4:13 kept coming back. "I can do all things through Christ who strengthens me."
As Tiffany, Doug, and I struggled to find a fitting title, we zeroed in on "I Can Do All Things."  But after some thought, it seemed a little long, so we shortened the phrase to: "I Can."  For several months, that was our title.
But when our publisher came into the mix, we became convinced that something less forward and more humble would better fit my personality and would better signify the story between the covers.  So, we went back to a title we had considered at first: "Hope Unseen."  Without hope in God, we are nothing.  Throughout my life and throughout Tiffany's life, each time we turned away from God, hopelessness set in.  The strength in all we do and all we have comes from the Lord.
All I am and all I have comes from God and my hope is always in him – with or without sight.
"Perseverance builds strength, strength character, and character hope."  Corinthians
"Hope Unseen"
I love a great story, and the story of Scotty Smiley is not only a great story of a true hero, but this gem is so well written that you will cry, laugh, and cheer as you turn the pages.

New York Times bestselling author

Captain Scotty Smiley was put to the ultimate test of faith and passed with flying colors, turning what was intended for evit into good. Hist determination to overcome and to allow God to be honored in the telling of his story is richly conveted through this book.

Grammy Award-winning artist

It's been said, 'The worth of one's character is measured by the trial of adversity.' Hope Unseen is a compelling, inspiring, true story about courage, faith, and character revealed. You'll never want to complain about your circumstances again!

U.S. Army

I know you will be inspired by the courageous story of Captain Scotty Smiley, and most of all by his everlasting faith in his Lord and Savior, Jesus Christ.

president and CEO, Samaritan's Purse; president & CEO, Billy Graham Evangelistic Association

Captain Scotty Smiley was the keynote speaker at our annual Global Meeting in January 2018. Scotty did a fantastic job of inspiring everyone that heard his story. He made it very relevant to each individual. The employee survey resulted in the highest rating we have ever had for a keynote speaker and for an overall event. Scotty is an amazing speaker and even better human being.

Global VP of Marketing, Verdesian Life Sciences

We recently hosted Scotty for an event at our church and it was even better than we could have hoped for. Scotty's story and insights had everyone moved by the end of the message. The amazing thing to me as a pastor was the range of people that were blessed by the message, from parents and kids to Vets and First Responders. Scotty is the real deal and what is encouraging is to see how much the Lord is continuing to use him.

Calvary Chapel Philly

In my role I work with many keynote speakers who share amazing stories of hope and inspiration. Scotty has one of those amazing stories. Speaking from experience and hearing his story, book him for your next corporate event, you will not be disappointed.

President of the State Financial Officers Foundation
ABOUT THE AUTHOR
Captain Scotty Smiley, a Ranger and combat-diver qualified infantryman, was the Army's first active-duty, blind officer and its first blind company commander. On April 6, 2005, he lost use of both eyes when a suicide car bomber blew himself up thirty meters in front of Scotty's Stryker vehicle. Since that day, Scotty Smiley has surfed in Hawaii, skied in Vail, skydived, climbed Mount Rainier, completed a triathlon, and graduated from Duke University's Fuqua School of Business with his MBA. The Army Times named Captain Smiley its Soldier of the Year in 2007, and in 2008 he won an ESPY as the world's Best Outdoor Athlete. Scotty, a recipient of the Bronze Star and Purple Heart, recently taught the core course in leadership at West Point and now commands the Warrior Transition Unit at West Point's Keller Army Medical Center. Captain Smiley was recently named a recipient of the Army's prestigious MacArthur Leadership Award and currently holds an honorary PhD from Mount Stain Mary College in Newburgh, NY. Scotty and his wife, Tiffany, are both from Pasco, Washington, where Scotty captained the Pasco High School Bulldogs to a Class 4A State Football Championship. Tiffany, who played college soccer at Whitworth, is a registered nurse. Scotty and Tiffany are the proud parents of Grady Douglas and Graham Elliott.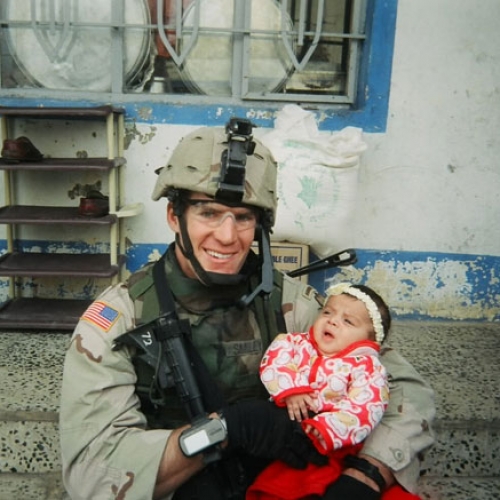 Doug Crandall served in the Army for thirteen years, including the last five at West Point where he was an award-winning leadership teacher and later the Executive Officer to the Dean. Doug now lives in Richland, Washington, with his wife, Stephanie, and their children: John, Jason, Mackenzie, and Timmy. He is the founder of Blue Rudder–a leadership development company. Mr. Crandall is a 1995 graduate of West Point and received his MBA from Stanford in 2003. He is previously editor and co-author of the book Leadership Lessons from West Point.
Details
Pub. Date: September 2010
Publisher: Simon & Schuster Adult Publishing Group
Format: Hardcover , 243pp
ISBN-13: 9781439183793
ISBN: 1439183791