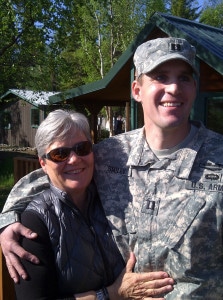 Thursday, I was invited to speak at the dedication of Samaritan Lodge Alaska, a retreat center for wounded Soldiers and their spouses. My brother, Neal and I flew from our home town into Port Alsworth, Alaska. Because Alaska's landscape is so vast and the villages are so remote, it took us two flights from Anchorage just to get to the camp. Our last leg was on a small turbo prop and we landed on a dirt runway. Now, that's remote!
Samaritan Lodge is in the Lake Clark National Forest. The retreat center offers emotional, spiritual, and relational healing for Military Veterans injured in the War on Terror. It is an amazing place of healing for couples, giving them the resources to reconnect. Couples learn that Jesus Christ is the source of all healing and through Him, the process of rebuilding relationships begins.
Among the speakers and supporters were Governor and Mrs. Parnell, Franklin and Jane (pictured with me) Graham, and COL (Retired) Kevin McDonnell, Director of the Care Coalition. I had the opportunity of sharing my testimony and speaking on the importance of God in my life. It's easy to have God in your life in the easy times, but faith comes when we are in the hard times. Operation Heal our Patriots will be a great place of healing and deepening faith, equipping them for future struggles that come with life.